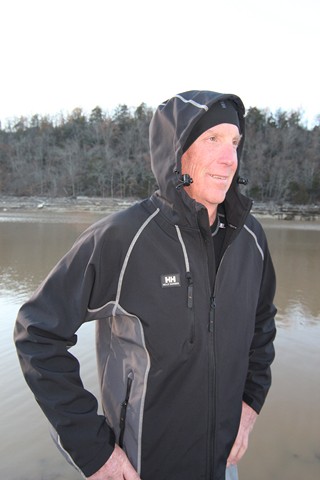 Softshell apparel like Helly Hansen Sevilla Softshell jacket is quickly becoming the rage in outdoor clothing. The Helly Hansen Sevilla Softshell Jacket is built with an interior of insulated fleece and covered with wind and water resistant membrane for the outer shell. It's versatility with a contemporary style keeps you in style and comfortable all day long.
Helly Hansen Softshell apparel is the second layer in base layering system. The base layer is worn first and designed to remove excess heat while transporting perspiration along with moisture away from the skin. Helly Hansen LIFA dry base layer is available in both shirts and pants with ratings for ideal temperatures to be worn.
A third layer in the Helly Hansen base layering system consists of the protective layer. It protects from wind and rain, but has a breathable hydrophilic or microporous membrane allowing perspiration to escape. Helly Hansen Helly Tech® all weather protection apparel comes in both jackets and pants.
In between the first and third layer is the insulation layer. The second layer is designed to insulate and trap air while keeping cold air out; in addition to allowing perspiration to transport through the fleece or protective membrane. Helly Hansen uses either a fleece insulation or fleece and outer protective membrane for the second layer.
Fleece jackets are extremely lightweight and comfortable. They come with features designed to keep you warm while out in cold weather conditions. The Helly Hansen Langley Fleece Jacket is constructed with Polartec Classic 200 Fleece, 100% polyester that's 245g/m.
While fleece is desirable for any angler going out in to cold weather situations, anglers are finding softshell jackets even more advantageous. They are built with fleece on the inside while having both a breathable wind and rain resistant outer membrane.
Helly Hansen's new Sevilla Softshell Jacket features include:
*80% Polyamide/20% Spandex/Lycra®Softshell-330g
*Water repellant zipper in front
* Upper right hand side chest exterior pocket with waterproof zip and pull
*2 hand pockets with water repellent zip closure
*2 deep inner pockets
*Velcro adjustment on bottom hem sleeve
*Hood with drawcord adjustment
*Drawcord adjustment at bottom hem
*Extended back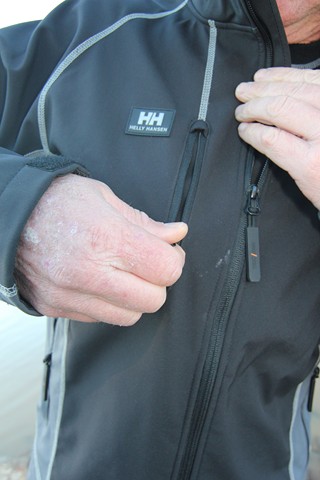 There are no shortcomings when it comes to features in the Helly Hansen Sevilla Softshell Jacket. Every angler is going to love all the outside pockets with water repellent zip closures. The upper right hand side chest pocket is great for keeping the iPhone in easy reach, but protected. Two inner pockets can hold fishing licenses, billfold or other personal items.
Its full length water repellent zipper runs up over the chin and provides protect from cold winds or rain when the hood is pulled up. The hood which is incorporated with the jacket has a drawcord that can be adjusted to fit any size.
Other features that are extremely angler friendly are the Velcro adjustments on the bottom hem sleeve and extended back.
Every angler can tell you they hate having water run through the bottom of the hem sleeve down their arms-especially cold water. The Velcro adjustments can be tightened up to eliminate water leaking into the sleeve.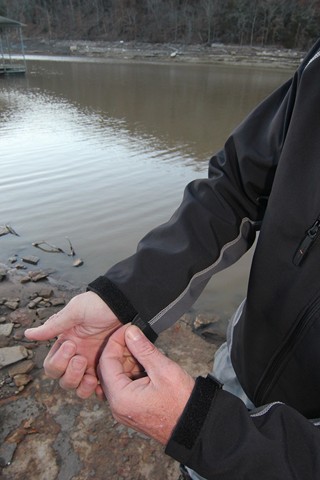 The extended back of the Helly Hansen Sevilla Softshell Jacket is also welcomed on those cold mornings keeping your back from being exposed when you are reaching or seating down.
Kayak anglers and Kayakers are going to find the Helly Hansen Sevilla Softshell Jacket irreplaceable. They are lightweight, easy to store in a small area and they can be worn almost year round. Just like anglers, kayak anglers and kayakers will find the Velcro adjustments great for keeping water dripping off the paddle and down their arms.
Helly Hansen Sevilla Softshell Jacket (www.HellyHansen.com) is constructed with 3-ply fabric and a durable water repellant finish. Every jacket is abrasion resistant with 100% polyester fleece on the inside and EN 342 certified for cold weather protection.
This jacket is perfect for any kayak angler or really any angler going out fishing. It's protective outside breathable membrane keeps you dry while the inner fleece keeps you warm and that's what every kayak angler or kayaker wants when out challenging the weather to catch fish or shooting the rapids.
Welcome to:
http://www.sklep.safety-workwear.eu/pl/p/Kurtka-softshell-HELLY-HANSEN-Sevilla-74006/613
Author: Brad Wiegmann