Sooner or later it's going to rain on you while you're out fishing. While it may make the fish bite better it can also make your fishing trip miserable. Having all weather protection like Helly Hansen Haag Jacket and Gent pants with its waterproof and breathable membrane will keep you dry even in heavy rain storms.
The Helly Hansen Haag Jacket and Gent Pants are part of a three layer system of dressing for staying warm and dry in foul or extreme weather conditions. It utilizes apparel designed to maintain a dry microclimate around the angler's body. The dry microclimate will create a "thermo-neutral zone" able to protect and keep an angler comfortable while out fishing.
The base layer is what provides protection against moisture that makes you feel cold. Helly Hansen base layer made with LIFA Stay Dry Technology works by moving moisture onto the next layer of clothing.
A second layer or middle layer consists of a fleece jacket. This provides insulation and warmth. Helly Hansen has several different weight fabrications to select from to stay warm.
Helly Hansen (www.hhworkwear.com) Haag Jacket and Gent Pant are part of the protective layer apparel designed to protect against wind and rain. The protective layer or outer protective layer provides protections from outside elements like rain and wind.
Both the Haag Jacket and Gent Pant feature a breathable microporous or hydrophilic membrane that allows moisture to evaporate through the pores of the membrane. That lets the body stay warm and dry.
Besides protecting against rain and wind, Helly Hansen Haag Jacket and Gent Pant have an abrasion resistant out shell that's EN 343 certified for foul weather protection.
Helly Hansen Haag Jacket Features:
*PU coated 100% polyester – 150 g/mHelly Hansen Haag Jacket and Gent Pant
*100% polyester mesh lining
*Fleece on inside of collar
*chin shield
*Hood stows under the collar with a zipper for removal
*Hood has front draw cord adjustment and back Velcro adjustment
*Storm flap with zip
*Draw cord adjustment at hem
*Right chest exterior pocket/waterproof zip and pull tab
*Two front pockets with zipper
*Inner pocket with zipper
*Velcro adjustment in cuffs
*Extend back
*Loop on inside for ID card
*Zipper on inside lining to permit embroidery
*Matching pants-Gent Pant
*Optional Red Lake Fleece Jacket that zips into Haag Jacket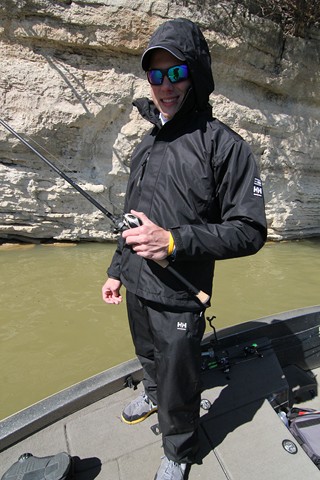 The middle or insulation layer can easily be added to the Helly Hansen Haag Jacket. The Haag has an extra zipper located on the inside of the jacket allowing a Helly Hansen Red Lake fleece jacket to be attached to it zipping it on.
Gent Pant:
*PU coated 100% polyester – 150 g/m
*100% nylon lining
*Two front pockets
*Drawstring and elastic at waist
*Knee length boot zippers with storm flap
*Loop on inside of waist for ID card
*Matching jacket-Haag Jacket
Pockets are a must for anglers. They need pockets to store clippers, fishing license, wallet, lures and other gear keeping them in reach. What anglers don't need is pockets that leak.
To keep the pocket from leaking, Helly Hansen uses waterproof zipper. The jacket also has an inner pocket where anglers can store cell phones or other valuables.
Every raincoat needs a hood. The Haag Jacket has a hood that's stowed under the collar when it's not raining or needed for protections from wind and rain. It can also be easily removed off the jacket.
Anglers can adjust the hood with back Velcro tabs or a front draw cord.
While bibs are nice to have sometimes, Gent Pant are lightweight, durable and easy to put on and off. When combined with the Helly Hansen Haag Jacket make for an ultralight rain suit that can be worn any place or carried anywhere.
It's the perfect rain suit for anglers. The light weight material with advance technology makes it simple to take out fishing. It can be stored in a boat storage compartment or inside a kayak hull.
Welcome to: Jacket Pant
Author: Brad Wiegmann
http://www.bradwiegmann.com/apparel/73-apparel/1038-helly-hansen-haag-jacket-and-gent-pant.html