The brand new MASCOT® Adra and MASCOT® Madrid trousers are for tradesmen who demand EVERYTHING from their workwear trousers. The trousers are full of pockets and details, have high durability and a level of comfort all of their own, thanks to elasticated areas.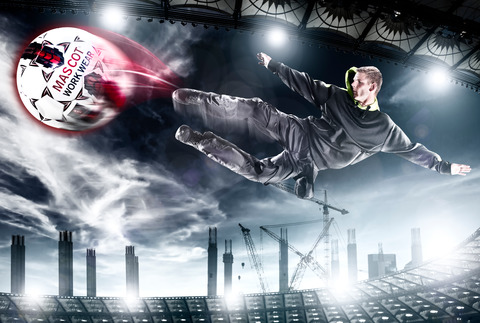 MASCOT® Madrid has holster pockets; while MASCOT® Adra has CORDURA® reinforced areas such as the front pocket (suited to screwdrivers etc) although they are otherwise similar.
This is a brand new league of trousers for the construction industry to arrive in stores soon. The trousers have been under development for many, many months. Our TESTED TO WORK procedures involve a thorough assessment of the products out in the field before they go into production. MASCOT® Madrid and MASCOT® Adra have, therefore, already been 'on the job' for a long time in various industry trades in the test period. For that reason, pockets and fit have been customised down to the smallest detail by your colleagues in the industries. The fabric has also been through a number of checks at MASCOT's laboratories, guaranteeing the user the highest level resistance to wear. The trousers feature many CORDURA® and Kevlar® details, providing extra resistance to wear in exposed areas, giving the whole product a long lifespan.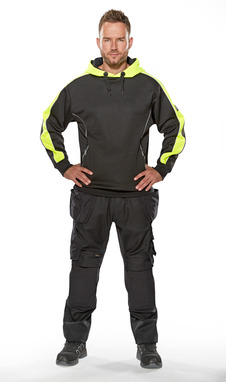 The first thing to note when you put these trousers on is that they are very comfortable to wear. The trousers feature ergonomically designed legs and a fitted lining, so that they follow all body movements. The gussets made from elastic fabric, especially around the knees, leads to increased freedom of movement, particularly when working on your knees. Extra comfort in hot conditions has also been thought of, with ventilation ducts around the back of the knees, where it can often be especially warm when using knee pads.
The many practical pockets, some with magnetic fasteners, make the trousers flexible in use, ideally suited to all trades in the construction industry. The back compartment of the thigh pocket is designed to hold a mini-tablet, and there is otherwise a lot of space for tools. MASCOT® Madrid's thigh pocket is especially spacious and the left pocket can be expanded with the help of magnets in the bottom that can be loosened to create space.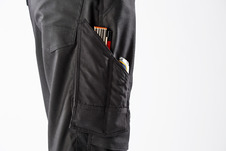 Ruler pocket with Kevlar® reinforcement – especially durable against pointy or sharp objects.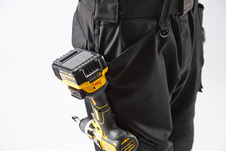 MASCOT® Adra: High durability on the front pockets is ensured by CORDURA® reinforcements – especially important when power tools hang from the pockets.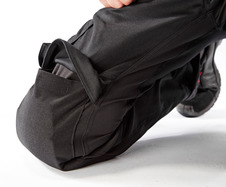 Can easily be extended by 3 cm by releasing the red stitching on the inside.
The trousers are available in three different leg lengths and a huge range of sizes. As a new feature, the wearer can lengthen the trousers by up to 3 cm by quite simply undoing an internal seam by using a knife.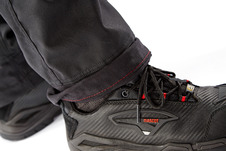 You will be able to find MASCOT® Madrid and MASCOT® Adra at your local retailer from March 2016. Choose from the colours dark navy blue, white, black, dark anthracite or khaki.
https://www.sklep.safety-workwear.eu/pl/p/Spodnie-robocze-dla-Rzemieslnikow-MASCOT-Madrid-HARDWEAR-15031-010/1259
Źródło: Komunikat prasowy Mascot International A/S