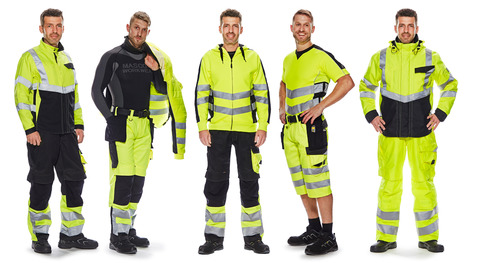 This Autumn will see a new generation of MASCOT's certified safe and hi-viz safety wear emerge on the market. A total of 19 new products, offering an abundance of functional details, will make up the MASCOT® SAFE SUPREME range, targeting contractors and the building and construction industry who place such high demands on their workwear.
MASCOT® SAFE SUPREME workwear offers full safety, certified in accordance with EN ISO 20471. The range offers six two-tone combinations, with base colours in fluorescent yellow, orange or red, and with contrast colours in smart dark shades, where the product is most exposed to dirt.
Extremely wear resistant
MASCOT® SAFE SUPREME workwear meets the highest requirements in comfort and durability. The smart combination of materials in the trousers, shorts and bib & brace are primarily placed allowing for the cotton to be next to the skin for the sake of comfort, and polyester on the outside to provide durability. In addition, there several places where CORDURA® reinforcements are used on exposed locations, such as pockets, knees and ankles. CORDURA® is seven times stronger than cotton, thereby ensures extra-long life for the product. The seams are also reinforced and the trousers, shorts and bib & braces have triple stitched seams in several places to strengthen the garment.
New product types
Brand new flexible tops are now offered with EN ISO 20471 certification. These take into account different temperatures and seasons, with e.g. a thermal jacket, thermal vest, a quilted hooded jumper and a soft-shell jacket. The tops and sweatshirts have elastic reflective tape that provides optimum freedom of movement without restrictions.
For all employees
Trousers to fit all – All trousers in MASCOT® SAFE SUPREME come in three different leg lengths as standard, and in up to 17 different waists per leg length. Not only that, but each of the leg lengths can be easily lengthened by three cm. A red seam on the underside of the material is easy to remove using a knife or cutter, lengthening the trousers.
Stay safe with certified class 3
When you or your colleagues need the highest safety class in EN ISO 20471, you have two options. You can either select a product that has class 3 on its own, or select two products that are certified together as class 3. MASCOT has received approval for a unique and easy lettering system, that makes the different classes easy to find and combine to class 3. The system has been approved by the institute and eliminates any uncertainty making it even easier for your employees.
Many combination options with other ranges
MASCOT® SAFE SUPREME creates a professional and distinct profile for your company. The range stands out from the rest, combining a range of new functions with a modern, ergonomic design, The products have slightly inclined reflective bands, giving them a sporty look. The new colour combinations can be matched with the rest of our garments, giving a huge number of mix and match options from among MASCOT's 600 other products.
Press release: Mascot International A/S