Your friends may notice your cool new sneakers and your boss may well complain that you have left your safety shoes at home. But the reality is, you can have safety wear and sneakers in one!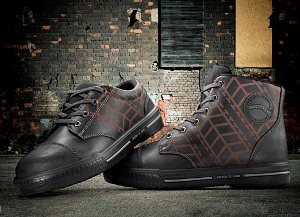 Whilst the new shoes and boots may resemble a fashionable pair of sneakers from a shoe store, there is no compromise on comfort and safety.
Simply the best for your feet
The new shoes and boots provide you with the same requirements as MASCOT's other safety footwear. To provide you with the extra comfort and safety when you are on your feet most of the time, MASCOT's new insoles are placed in the shoes and boots. These give extra support in the arch and a shock absorbing cushion in the heel so your feet do not become tired.
The sole is a VIBRAM® sole, made from a highly durable and slip-resistant material that keeps you sturdy in your stance and provides a solid footing on many types of surfaces. At the same time, with MASCOT's new ergonomic toe cap, there is room for your toes, when for example, you have to bend down or stand on tiptoe.
A choice of designs
You can choose between four different versions of the new sneaker inspired footwear, depending on whether you require shoes or boots, in printed leather or black Cordura® – a fibre/nylon material that is both extremely strong and breathable. The new safety shoes and boots are designed for skilled trades, light industry and logistics and transport. If you work a lot on your knees during the day, we recommend MASCOT safety footwear with extra toe protection.
Welcome to: www.sklep.safety-workwear.eu
Press release: Mascot International A/S